Eldorado Biofuel is able to provide low-cost solutions to your algae needs because we are a lean, small team who believe that ships should run tight and that demonstrable products speak louder than words.
Our Approach
Renewability and Sustainability
Through our partnership with the NAABB and LANL and other leaders in the area of biochemical research and development, over the last 5 years we have made breakthroughs in utilizing oil and gas waste water to grow algae. Our technologies are being continually improved to achieve as close to 100% industrial re-use of all ingoing materials as possible. During the process we recycle a number of industrial waste materials, including industrial waste water produced by the oil and gas industry, CO2, and waste streams of regional dairy farms, and are converting them for alternative industrial uses. Our biofuels are innovative, environmentally friendly, low carbon and sustainable, while having a beneficial effect on the environment, including consuming unwanted greenhouse gases.
Efficiency and Flexibility
Our approach is highly flexible, efficient, cost-effective, eco-friendly, and scalable. At Eldorado Biofuels the concept of efficiency is applied beyond production and processing of biofuels and energy, it also extends to the location of our production facilities. The modular design of our technologies allows us to bring our systems to locations where the ingredients for our processes are vastly available. Instead of having to transport water, CO2, and other necessary nutrients to a central processing site we are taking the processing to where the supplies are. This allows for reduction of transportation costs and related transportation energy consumption. Our systems are also easily scalable, so that we can install the right system at the right size for any given application.
Economic Impact
Eldorado Biofuel's mission is to contribute significantly to the national effort to replace hundreds of millions of barrels of imported petroleum with clean, renewable, domestically produced transportation biofuel. We are helping to satisfy the increased demand for energy security and energy independence while investing into and growing our local economies.
 The development of algae farms has a considerable long-term economic effect on rural communities, where the oil fields exist and the jobs are needed most. Economist Dr. James Richardson of Texas A&M estimates that for every 1,000 acre algae farm 250 jobs will be created during construction, followed by 42 permanent positions, and 150 jobs elsewhere in the community.
Our Demonstration Facility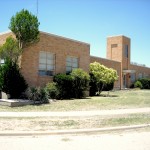 Our demonstration facility showcases our model for industrial waste water treatment and the commercialization of algae derived biofuel production. Biofuel is then converted into biodiesel and commercial jet fuel, and can be immediately plugged into existing transportation energy infrastructures while realizing environmental benefits. The facility is located in Jal, in the south east corner of New Mexico, an area identified as one of the preferred locations for outdoor algae growth by the Department of Energy, due to its specific climate conditions (>2800 hour annual sunshine, >55F annual average temp., >200 freeze-free days). Jal stands right at the heart of New Mexico's oil and gas industry, which produces over 50 million gallons per day of produced water, much of which is suitable for algae cultivation. The region is also rich in other nutrients and resources critical to successful algae cultivation.
Please contact us in order to schedule a visit of our facility or to discuss how we can provide water treatment solutions for your business.